In the world of mental health, the impact of a skilled and compassionate practitioner can be life-changing. As a mental health professional, your expertise holds the power to guide individuals through their most challenging moments, helping them find healing, growth, and resilience. However, in an increasingly digital age, connecting with those in need can sometimes be a daunting task.
Enter Stellar Pro, a beacon of opportunity for mental health practitioners seeking to expand their reach and impact. Our comprehensive therapy directory goes beyond the conventional, offering a space where practitioners can truly shine and prospective clients can find their perfect match. Let's delve into five compelling reasons why joining Stellar Pro can be a game-changer for mental health practitioners.
From showcasing your specialized skills to validating your credentials, gaining more leads, connecting with your ideal clients, and boosting your online presence, Stellar Pro opens doors to a realm of possibilities. Let's explore how our innovative platform can help you elevate your mental health practice, allowing you to focus on what you do best: guiding individuals toward brighter and healthier futures.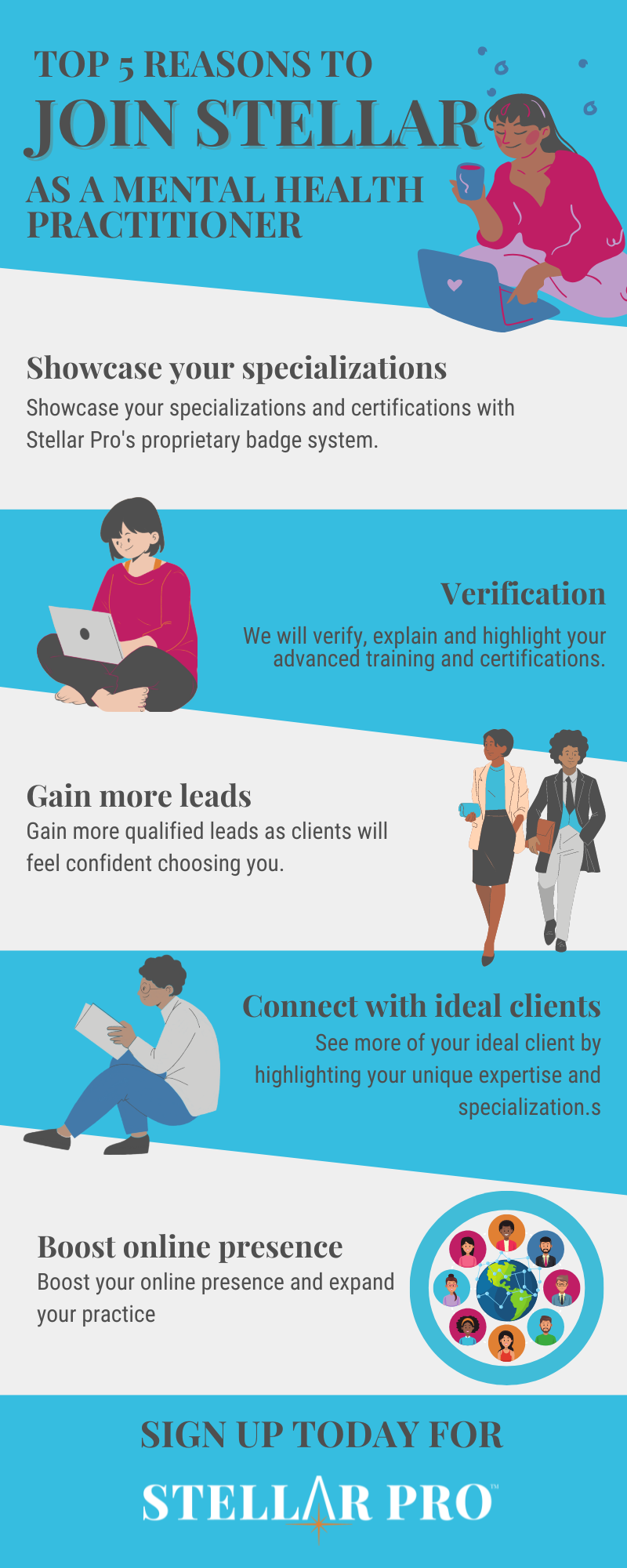 Showcase your specializations
As a mental health practitioner, you possess unique skills and expertise that set you apart. Stellar Pro provides a platform to showcase your specialized areas of practice. Whether you specialize in anxiety, trauma, couples therapy, or any other niche, the directory allows you to highlight these specializations. This enables potential clients to quickly identify therapists who align with their specific needs, making the process of finding the right practitioner more efficient and tailored.
Verification
Trust and credibility are paramount in the mental health field. Stellar Pro offers a space to verify and display your credentials prominently. When clients are searching for a therapist, they want assurance that they're working with a qualified professional. By listing your credentials on Stellar Pro, you're not only enhancing your credibility but also giving potential clients the peace of mind they need to pursue your services.
Gain more leads
Joining Stellar Pro can expand your reach to a wider audience actively seeking mental health support. Stellar Pro's platform's user-friendly interface and search functionality make it easy for potential clients to discover you. This increased visibility translates into more leads. As your profile gets more exposure, you have the opportunity to connect with individuals who are genuinely interested in the services you provide.
Connect with ideal clients
Every Stellar Pro mental health practitioner has a specific approach and therapeutic style. Stellar Pro allows you to detail your therapeutic approach, giving potential clients insight into how you work. This enables you to attract clients who resonate with your methods and philosophy, leading to more meaningful and productive therapeutic relationships. By connecting with clients who align with your approach, you're setting the stage for successful outcomes.
Boost online presence
In today's digital age, an online presence is crucial for any professional. Joining Stellar Pro enhances your online visibility within the mental health community. The directory's well-optimized profiles often rank high in search engine results, making it easier for people seeking therapy to find you. A strong online presence not only helps you reach more clients but also solidifies your position as a reputable mental health practitioner.
Conclusion
Becoming a part of Stellar Pro as a mental health practitioner offers a multitude of advantages. From showcasing your specializations and verifying your credentials to gaining more leads, connecting with ideal clients, and boosting your online presence, the platform is designed to support your growth and success in the mental health field. By leveraging the features and benefits of Stellar Pro, you're positioning yourself for greater visibility, credibility, and meaningful connections with those seeking the support you provide.